Anthony Herron's giant smile and energetic voice are hard to miss during football season.
The former Iowa defensive lineman (1997-2000) is a color commentator for professional, collegiate, and high school football games. No matter the setting, he provides thought provoking, entertaining, and informative analysis.
Herron, 35, can be heard during Arena Football League (AFL) games on ESPN and CBS Sports, and during college football season on the Pac-12 and NBC networks.
On top of calling a full slate of regular season college football and AFL games, he also works the "Bayou Classic" between Grambling and Southern, the U.S. Army All-American Bowl, and the ArenaBowl Championship.
The former Hawkeye calls Chicago home and spends the workweek in the AFL office, serving as senior VP of communications for the league. During his tenure, he has helped negotiate the deal to get all AFL games nationally-televised and orchestrated the league's deal with ESPN.
As the workweek draws to a close, he begins the transition into broadcaster-mode.
"Every broadcast is like studying for a mid-term," he said. "You're breaking down film, talking to coaches, and trying to get an understanding of the schemes. Especially for college football, you need to know the back-stories of the players to give a personal touch to the broadcast. I try to be a storyteller on the air, not just a football teacher, to paint the full picture of the game."
The former Hawkeye spends about 40 weeks each year traveling to broadcast football games, racking up around 100,000 flight miles annually. This has made him a bit of a regular at O'Hare airport, so much so that airport employees wonder where the former Hawkeye is if he doesn't show up to catch a flight in a given week.
Even while on-air, Herron's duties go beyond color commentary. Being in charge of communications for the entire league forces him to juggle multiple tasks. He's interacting with fans on social media, keeping an eye on other AFL broadcasts and the league website, and tackling any other communications-related issues that come his way.
Amidst the chaos and hectic schedule, Herron is surprisingly at ease. This is the life of a football broadcaster and league executive, and the former Hawkeye wouldn't have it any other way.
Hawkeye spreads his wings 
Herron brought that same steadiness and reliability to Iowa's defensive line at the beginning of the Ferentz era, starting every game in the 1999 and 2000 seasons.
He led the team with 11 tackles and one sack in Ferentz's first victory as Iowa's head coach — a 24-0 shutout against Northern Illinois that would end up being the Hawkeyes lone win of the 1999 campaign. He became a team captain on the 2000 squad, and earned honorable mention All-Big Ten accolades.
By the time his collegiate career was over, Herron had amassed 172 tackles, 19 tackles for loss, and 10 sacks.
While former teammate Matt Bowen described Herron as a "super intense football player," the defensive lineman's nickname at Iowa was "Grandpa" due to his quiet demeanor, and laid-back, advice-giving nature.
Herron spent parts of four seasons playing professionally in the NFL — primarily on the practice squad and injured reserve — and three seasons in the AFL. While rehabbing an injury in 2006, the Comcast affiliate in Nashville inquired if he had any interest in television. He auditioned and got the job, calling some high school and college games during the AFL offseason.
"Broadcasting allows me to show another side of my personality," Herron said. "To do this job well you have to create a kind of persona on the air. While I was playing at Iowa and professionally, I certainly wasn't a shy person, but I also wasn't the guy in the locker room talking the loudest."
Spending time as an assistant coach in the now-defunct Arena Football 2 gave Herron an education on a wide range of schemes and techniques, making him even more comfortable in the broadcast booth.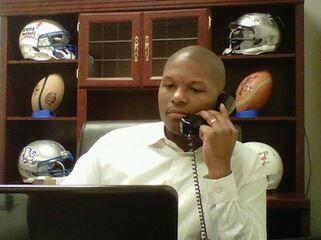 "Having to put a game plan together and communicate it to the players helped me immensely as a football analyst," he said. "It's one thing to understand something in your head, but it's entirely different putting a concept into words that make sense to an audience."
After sending résumé tapes to various networks, he landed a game analyst position with the Big Ten Network in 2008. He called Big Ten games for three seasons, including Iowa's dramatic victory over Northern Iowa in the 2009 season opener.
While at BTN, the former Hawkeye developed a friendship with broadcast partner Ari Wolfe. The pair started calling Big Ten games in 2009, and still work together today as the "A-Team" for AFL broadcasts.
"What sets Anthony apart is his ability to explain challenging football concepts, and communicate them in a way everyone can understand and appreciate," Wolfe said. "He is a master at word usage and incredibly likeable in the way he gives information. He never talks down to the audience. His goal is to make sure everyone can take something away from his explanation of the game."
An ever-growing résumé
From a career perspective, Herron couldn't be happier. But he's always open to trying new things. After all, that is what got him into broadcasting and being an AFL executive in the first place.
The former Hawkeye is coaching once again. Instead of instructing on blocking schemes, pass patterns, and defensive alignments, he's teaching the finer points of play-by-play, color commentary, and sideline reporting.
He's teaching at the Illinois Center for Broadcasting, and will also lead a workshop at Second City, to help others looking to break into the industry.
"Where my career goes from here is hard to say," he said. "I've always been a bit of a realist. I know there's only one crew that will call the Super Bowl and National Championship game each season. I don't view that as what I have to do in order to achieve something meaningful as a broadcaster."
His partner in the broadcast booth sees the former Hawkeye's future job prospects going in a number of directions.
"If he wants to be a full-time broadcaster, the sky is the limit, but I believe Anthony could be well-suited in so many businesses," Wolfe said. "I talked about him running for office one day. He's a great leader with strong character. It wouldn't shock me in 25 years if he were the athletics director at Iowa. Anthony has the skill-set to lead, and will be successful at anything he chooses to do."