Hawkeye fans may not remember the name Ettore Ewen.
The oft-injured defensive lineman from Tampa, Florida suffered two torn ACL's, a torn pectoral muscle and a broken patella during his time with the Black and Gold. His only game action came in the 2006 season, appearing in 12 contests and recording 14 tackles and half of a sack.
Although the former Hawkeye didn't achieve gridiron glory, he has become well known by legions of fans for his achievements in a different athletic endeavor.
Ewen, 30, is now known by his ring name "Big E" — the moniker he uses as a professional wrestler for World Wrestling Entertainment (WWE).
Big E signed a contract WWE in 2009, starting in the developmental division to learn the ropes of professional wrestling. He made his WWE debut in 2012 and has seen tremendous success since. He's a member of the show's main roster, and has traveled across the globe to participate in several European tours.
Inside the ring, Ewen won an Intercontinental title in 2013 and is currently a member of "The New Day" — the WWE Tag Team Champions and longest-reigning Tag Team title-holders in history.
The trio — made up of Big E, Kofi Kingston and Xavier Woods — will look to defend their Tag Team title at WWE SummerSlam on Aug. 21.
"I'm really proud of my time in the WWE," Ewen said. "Having the chance to see the world has been really rewarding, and it's been cool to see 'The New Day' get positive feedback from our fans. We got such a visceral response from our fans at SummerSlam last year when we won the title. We look forward hearing that reaction when we defend that title this year."
The former Hawkeye's path to professional wrestling was all about being in the right place at the right time. Ewen was attending graduate school at Iowa in hopes of pursuing a career as an athletic director when former Hawkeye teammate Mike Humpal came to him with a proposition.
While attending the 2009 NCAA Wrestling tournament in St. Louis, Humpal was speaking with his friend Mike Doughty. Doughty shared a story about a visit he had with longtime WWE executive Jim Ross on an airplane trip. Ross noticed Doughty's Hawkeye wrestling jacket, and their conversation ended with Ross mentioning to Doughty to let him know if he came across any graduating college wrestlers that might be a good fit in the WWE.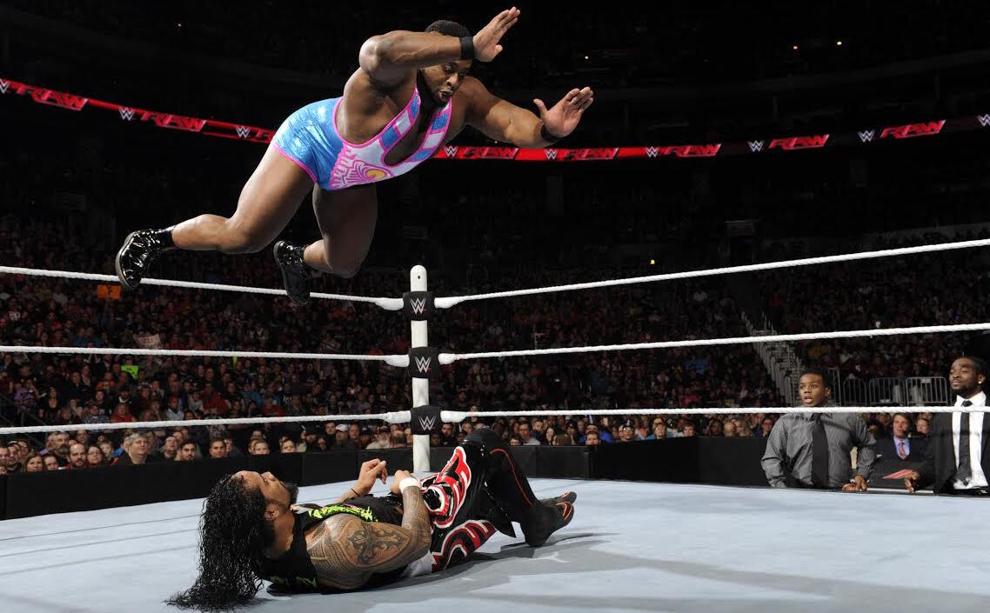 Without hesitation, Humpal told his friend he had the perfect prospect in mind.
At 5-11, 285 pounds, Ewen has the frame of a professional wrestler and the experience to back it up. He was a state champion grappler in high school and strength that can only be described as mind-blowing. While competing in the WWE developmental divisions, he won a pair of U.S. Powerlifting titles in 2010 and 2011. At the time, his 799 pound deadlift was a raw American and national record.
The athleticism was clearly there, but some friends and family were unsure if Big E had the personality to make in a profession filled with so many colorful characters.
"A lot of people didn't think I could do it because I was very introverted as a child," he said. "What we do requires a loud personality and some showmanship. I felt like I had that in me but didn't have the platform to show it. It took a while and I just dropped my inhibitions and embraced being a performer. Now I'd argue to say I have one of the most flamboyant personalities on the show. That's something I'm proud of."
Humpal feels a great sense of pride when he watches his former Hawkeye teammate compete on TV. They still text message each other and talk on the phone once in a while, but life in the WWE keeps Big E pretty busy.
"Every time we talk we reminisce about how so many things came together that ultimately led to his opportunity to get where he is today," Humpal said. "All I did was see the potential and open the door for a friend, Big E is the one who ran through it and has become a WWE superstar."
Away from the ring, Big E describes his life as "mundane." His ideal post-work activity involves eating sushi, watching Netflix and listening to hip-hop music. His latest obsession is the Netflix show Stranger Things. He still considers Iowa a second home, and even made it back to Iowa City a few months ago to check out the Hawkeyes new football facility.
Although he has nearly four years under his belt on the main WWE roster, Big E doesn't spend much time reflecting on his accomplishments. He dreams of winning the World Heavyweight Title and spending many more years in the ring.
"I think it's dangerous to step back and think about 'making it,'" he said. "I always want to keep moving forward and top what I did the day prior. I'm in a position now where I have a brand extension, and I want to continue to entertain people as long as I can."