IOWA CITY, Iowa - Iowa Football released its spring prospectus. One of the fans and media's favorite sections, the new depth chart, was present and created discussion. 
The Hawkeyes, like most seasons, will be replacing key student-athletes from the 2020 team that won its final six games. That on-field process begins Tuesday when they begin spring practice. 
Here's a look at the offensive two-deep (click on image to enlarge):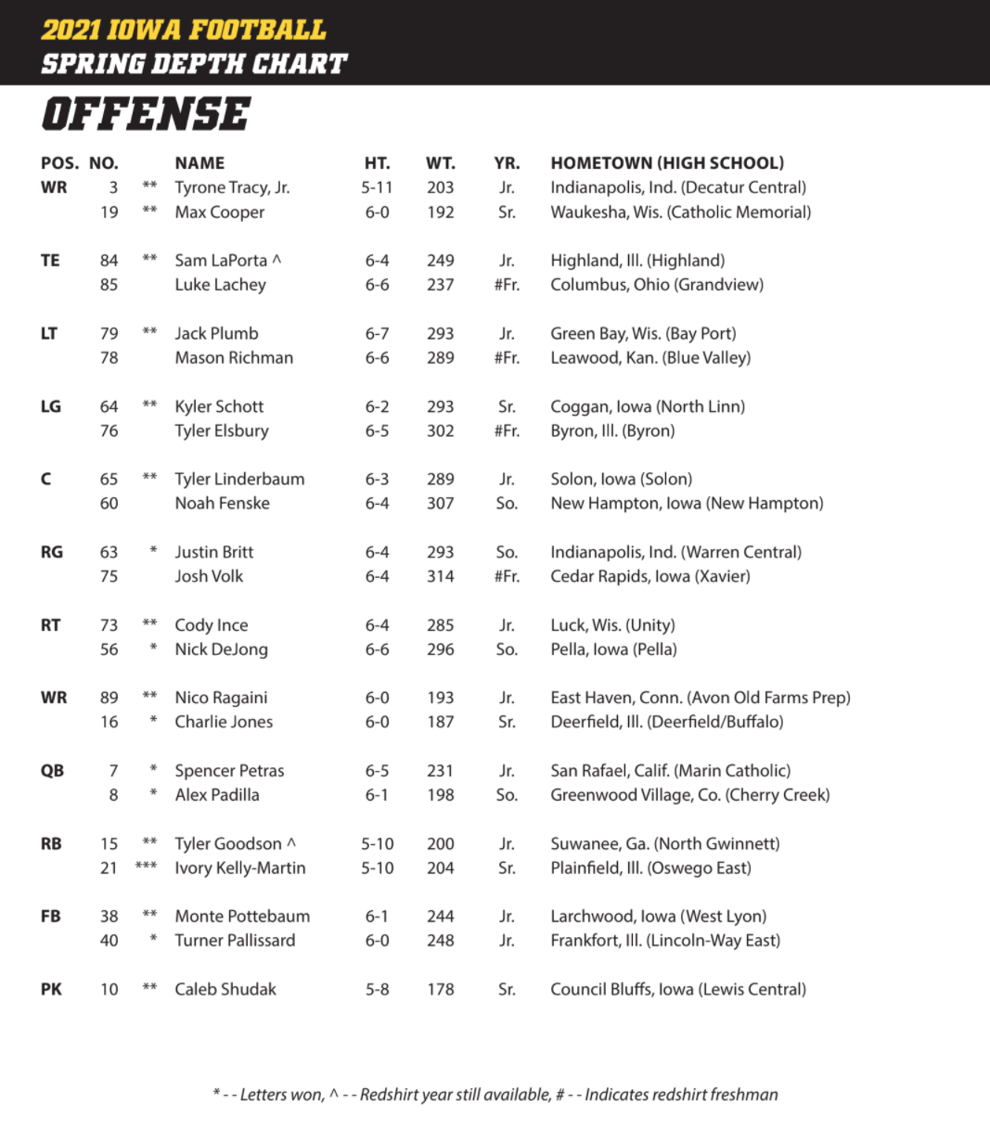 Thoughts, Observations: 
-To no one's surprise (if you are caught off guard, shame on you), Spencer Petras is listed as the starting quarterback. It's a very important spring for the California native, who experienced an uneven first season as a starter, one that was compromised by a pandemic. 
Alex Padilla shows up as the No. 2 signal caller. Deuce Hogan is not listed, but all three guys will be competing for jobs during the next month and then in summer camp. We'll see how it shakes out. 
-Ivory Kelly-Martin appeared as the backup running back behind Tyler Goodson. Kelly-Martin underwent knee surgery in December, which likely will cost him contact in spring practice.
No other ball carriers on the roster have taken meaningful game reps outside of the top two, but the spring will be a good opportunity for second-year backs Gavin Williams and Leshon Williams (no relation). 
-Gone are three key '20 offensive linemen - Alaric Jackson, Cole Banwart and Mark Kellenberger. The latter has eligibility remaining and likely would have started at one of the tackle spots, but he chose to retire. 
Jack Plum begins the spring as the No. 1 left tackle with Cody Ince the starting right tackle. Plum has two career starts at right tackle, and Ince's resume includes six starts at left guard in '20. 
Kyler Schott shows up as the No. 1 left guard after starting games at both guard spots the last two seasons. Justin Britt is the top right guard following limited game action in his first two years on campus. 
Tyler Linderbaum anchors the line from his starting center spot. If you haven't heard, he's good. 
First-year line coach George Barnett will be tasked with developing depth on the front. The five backups listed include three freshmen and two sophomores. 
-Starting receivers Brandon Smith and Ihmir Smith-Marsette are preparing for the NFL Draft. That opens up plenty of playing time at the position. 
Tyrone Tracy and Nico Ragaini are listed as the starters after playing important roles the last two campaigns. Max Cooper and Charlie Jones show up as the backups. 
It will be interesting to see who can emerge from the group of young pass catchers, which includes Desmond Hutson, Diante Vines, Quavon Matthews, Arland Bruce IV and Keagan Johnson. The last two guys listed are true freshmen who enrolled in January. 
-Starting tight end Sam LaPorta figures to be at the top of most opposing teams' scouting reports after two solid seasons. Second-year guy Luke Lachey is listed as his backup. 
It's an important spring for Bryce Schulte, Josiah Miamen, Elijah Yelverton and others trying to break through at the position. 
-Monte Pottebaum returns to his starting fullback spot after playing well in '20, and Turner Pallissard is once again listed as his backup.
-Caleb Shudak begins spring as the starting kicker after backing up Keith Duncan the last two seasons. Nobody shows up as Shudak's backup. Lucas Amaya and Aaron Blom are the other kickers on the roster. 
Shudak should ensure there's little to no drop-off at the spot. 
Here's the defensive two-deep (click on image to enlarge):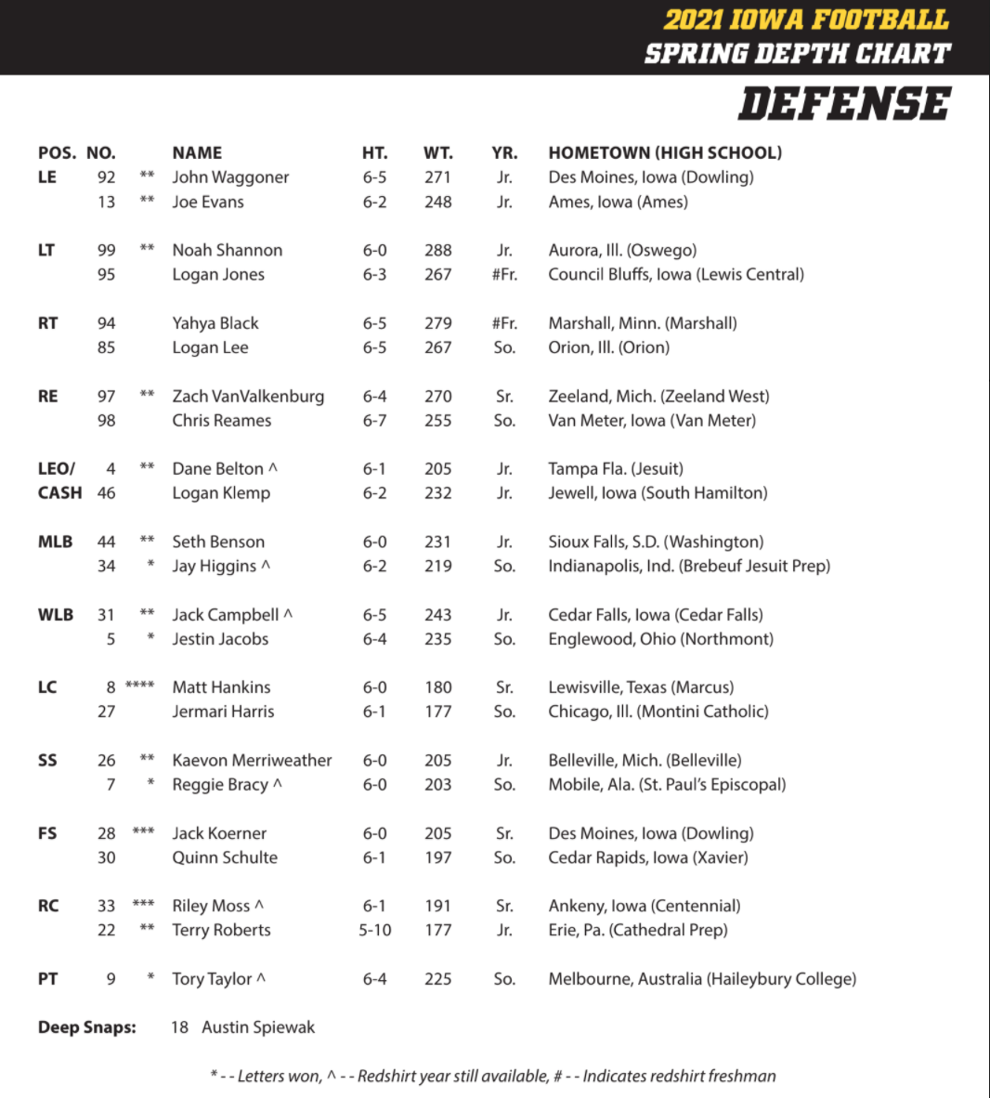 Thoughts, Observations: 
-Iowa will replacing three starting defensive linemen (again) - Chauncey Golston, Daviyon Nixon and Jack Heflin. There might not be a position on the team where spring development is more important. 
All-Big Ten end Zach VanValkenburg is the most experienced returner. John Waggoner is listed as the starter opposite him with Noah Shannon and Yahya Black as the No. 1 defensive tackles. All three would be taking a big step forward in playing time. 
Joe Evans and Chris Reames show up as the backup ends with Logan Jones and Logan Lee as the No. 2 tackles. Evans has experience in pass-rush packages the last two seasons. 
Evans becoming an every-down capable end would be big for this group. 
-Jack Campbell (No. 1 WIL) and Seth Benson (MLB) are seasoned on the second level, but depth must be developed here. Logan Klemp is the top LEO with Jay Higgins as the No. 2 man in the middle and Jestin Jacobs the backup WIL. 
I would think the LEO is used even less than it was the last two seasons. 
-When Iowa goes 4-2, Dane Belton will be back at CASH. Kaevon Merriweather (strong) and Jack Koerner (free) return as starting safeties as do cornerbacks Matt Hankins and Riley Moss. Reggie Bracy and Quinn Schulte are listed as backup safeties, and Jermari Harris and Terry Roberts are the No. 2 corners. 
The secondary is the strength of this defense heading into the spring. 
-Tory Taylor, the conference's top punter a season ago, is the only player listed at that position. Ryan Gersonde and Nick Phelps are on the roster. 
-Austin Spiewak is back for long snaps with nobody showing up as his backup. Zach Kluver and Liam Reardon are on the roster.