Plenty of college basketball players have appeared in multiple Final Four games, but Steve Krafcisin can take the feat a step further.
The Iowa center from 1978-81 played in the 1980 Final Four as a member of the Hawkeyes and in 1977 with North Carolina.
Krafcisin holds the unique distinction of being the only player to score a point in the national semifinal game with two different teams.
"It's a neat thing to have your name brought up," he said. "Being a part of the game I love, and having a small piece of basketball history is pretty cool."
Basketball still remains a large part of the former Hawkeye's life.
Krafcisin, 56, is in his 10th year as head coach of the Des Moines Area Community College (DMACC) women's basketball team. He also works as the school's Student Activities Coordinator — scheduling events, entertainment, educational speakers, and intramurals.
During his tenure, the Bears have won more than 200 games and produced three All-Americans — a successful career for someone who had no intention of coaching women's hoops.
"I would have thought I had a better shot at owning a bar than coaching women's basketball," Krafcisin said.
Prior to DMACC, the former Hawkeye built up a strong resume in the men's game.
He worked under Johnny Orr and Tim Floyd at Iowa State, and also had assistant coaching stints at Loras and North Dakota.
Priorities changed after the birth of his first child. He didn't want to be the father who worked 15-hour days, traveled all the time, and never saw his family.
He left Division I coaching and spent seven years as the head men's basketball coach at North Iowa Area Community College (NIACC).
The opportunity to move from NIACC in Mason City to DMACC in Boone meant being even closer to his wife's family. The married father of three has never looked back.
"I can't think of doing anything else," he said. "Everyone asks if I'll get another job and coach the boys again. I have no desire to do that. My goals are to keep doing what we're doing, and keep doing it a little better every year."
Tar Heel to Hawkeye
The 6-foot-9 Chicago native had one thought in mind when selecting a college — going someplace where basketball was king. That led him to Chapel Hill, North Carolina.
He averaged 2.9 points per game in his freshman campaign with UNC, and the Tar Heels reached the National Championship game, losing to Marquette in the title game.
While the season was a success, Krafcisin didn't get the playing time he'd hoped. Dean Smith recruited two other big men, and had told Krafcisin the starting center job would be up for grabs.
He became homesick, and ultimately decided it was best to return to the Midwest. Krafcisin transferred to Iowa, and made a major impact on Lute Olson's Hawkeyes.
The three-year starter earned third-team all-Big Ten honors in 1980 and was a member of three 20-win Iowa teams, including Iowa's 1980 Final Four squad — the last Hawkeye team to reach the semifinal game.
He led Iowa in rebounding and field goal percentage in 1980 and 1981, and was third on the team in scoring.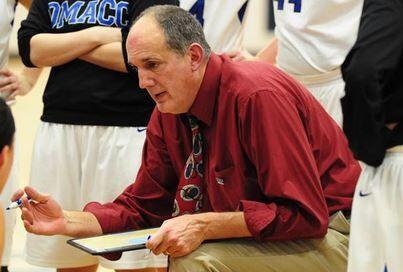 Forever indebted
The former Hawkeye is still frequently recognized when he travels across Iowa and to other parts of the Midwest. Being remembered is a humbling and gratifying feeling.
"I don't regret the decision to go to North Carolina, but if I didn't transfer I wouldn't have the life I enjoy today," Krafcisin said.
DMACC is 10-5 this season, and the outlook looks bright. Although eight out of 12 players on the roster are freshman, he said the team has the toughness and physicality to compete with its opponents.
Krafcisin's laid back, yet excitable attitude keeps the team engaged and motivated, said Jocelyn Kovarik, who played for "Coach K" and now works as his assistant coach.
"His passion for helping our young ladies succeed is unmatched," Kovarik said. "He is all about each student-athlete 'enjoying the journey' and getting the most out of their time at DMACC, both on and off the court."
One thing has eluded the former Hawkeye in his 17 years of coaching junior college basketball — an appearance in the National Tournament.
While making the tournament would be an outstanding achievement, Krafcisin doesn't view this as one of his coaching goals. Seeing his student athletes signed by other collegiate programs trumps postseason play in his book.
One of his former players is a starter for North Carolina State. More than 25 others have made the jump to Division I, Division II or NAIA institutions during his decade of coaching.
These stories give the former Hawkeye a great sense of pride and the feeling of being a "proud parent."
"Life doesn't get much better than this," he said. "Iowa gave this to me. The University gave this to me. I'm forever indebted. St. Laurence high school gave me basketball — it got me to college — but Iowa got me to my life."